If you're getting started in the creative world of nonlinear editing on a Mac, here are a few applications you should check out.
Video editing is part of many people's daily lives and having a reliable editing application is crucial for producing quality work. Most video editors are Windows-based, Mac-based, compatible with both, or open-source, and users often struggle to choose which OS is the best for their needs.
Mac devices have long been considered the most appropriate solutions for creative professionals and enthusiasts, but is Mac really that good?
In this article, we'll guide you through the process of editing videos on a Mac, and we'll share the 5 best paid and free video editing applications for Mac based on your individual needs and preferences.
Mac Editing Peculiarities
Mac computers are known for their unique characteristics, making them popular among creative professionals. These features include the following:
Optimized Hardware and Software Integration: Mac computers are designed with a seamless integration of hardware and software components, allowing for optimum performance and efficiency when using multimedia applications.
User-Friendly Interface: Macs are known for their intuitive and user-friendly interface.
Robust Multimedia Capabilities: macOS devices are equipped with powerful multimedia capabilities, allowing users to work with high-resolution images, videos, and audio files without any lag or performance issues.
Why Macs Are Popular in the Creative Industry
There are several reasons why Macs are widely used in creative industries like film, photography, and design:
Reliable Performance: Mac computers are known for their fast performance speed and powerful processing capabilities, which is essential for handling complex multimedia projects, including 3D modeling, animation, rendering, and advanced video editing.
Impressive Display Quality: Most Mac computers come with an outstanding display, so users can work on fine details without compromising image quality. This is especially important for graphic designers, video editors, photographers, and other creative professionals who need to see precise details like shadows and highlights.
User-Friendly Interface: A major advantage of Mac computers is the intuitive UI. This makes it easier for users to access the features they need without countless complicated menus and buttons. Plus, Apple includes plenty of helpful tools, features, and hotkeys to help users get the most out of their Mac.
Industry-Standard Software: Many of the programs currently used in the industry are designed specifically for Macs. This makes it easier for content creators to access the software they need and finish their projects quickly and efficiently.
Why Is a Mac a Good Investment?
Investing in a Mac for video editing purposes offers long-term value and benefits:
Durability: Macs have a reputation for being reliable and durable. With proper care, many users can get years of use out of their computer without having to replace parts or purchase a new one.
Software Ecosystem: Macs are part of the Apple ecosystem, which means that there is a wide range of apps and services available for users. From video editors to productivity suites, users have access to everything they need without having to switch between different operating systems. In addition, Mac-based devices can easily sync with each other, making your work more efficient.
Software Updates: Apple regularly releases software updates so users can always stay up to date with the latest features and tools. These software updates also help make sure that users' computers are running smoothly and securely.
High Price-to-Performance Ratio: Mac computers tend to be pricier than PCs; however, they also offer more bang for the buck. Most macOS devices offer a powerful processor, plenty of RAM, and impressive storage capacity, allowing users to do more without needing to upgrade their hardware as often.
Reliable Customer Support: Mac users can get assistance through Apple's customer service department. Whether it's troubleshooting issues or providing guidance on using specific software, the support team is always there to help.
Top 5 Video Editors for Mac
1. Movavi Video Editor
Best for: Creative editing
If you're looking for an intuitive UI and a seamless video editing process, the best video editor for Mac is Movavi Video Editor. Anything like basic or advanced editing, adding effects, transitions, music, and titles, enhancing sound, optimizing video quality, and more can be quickly accomplished with its features.
Features:
Trimming, cropping, splitting, joining, and rotating video clips
A collection of effects, music, sounds, intros, and more
Video stabilization and motion tracking
Audio enhancement tools like equalizer, normalization, and noise removal
Additional video editing tools like color correction, animation, masking, positioning, and others.
Chroma key and AI background removal
Pros:
Easy to use
Drag-and-drop interface
Wide range of video/audio editing features
Supports various formats and up to 4K quality
Allows quick export to YouTube, and other popular platforms and messaging apps
Cons:
Limited free trial
Few advanced features compared to some competitors
Requires purchase of additional effects packs for more content
Pricing: 7-day free trial, $54.95/year or $79.95 for a lifetime license
2. Clideo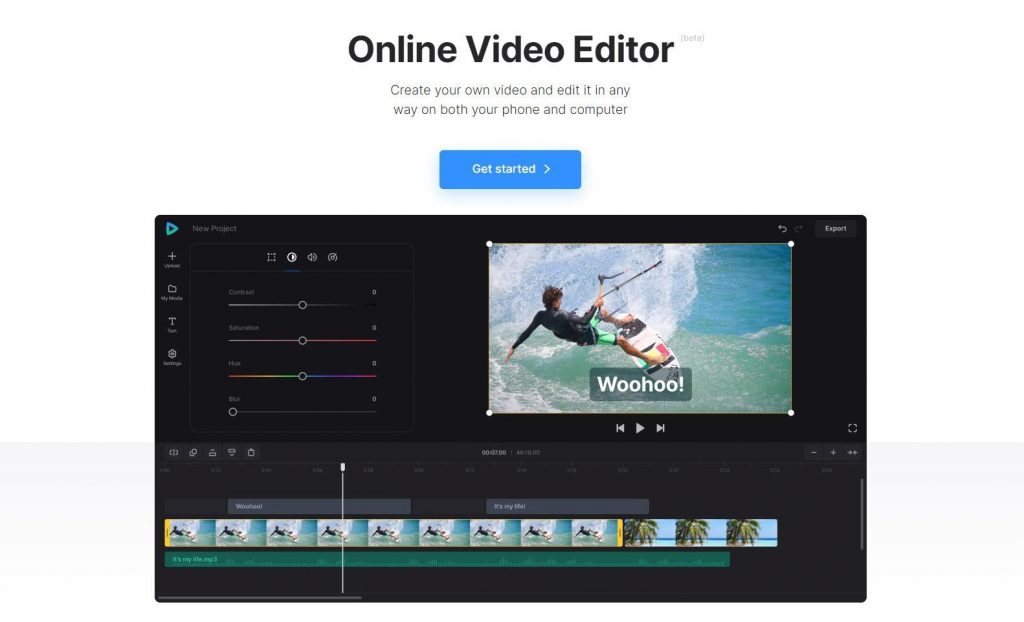 Best for: On-the-go editing
Clideo is an online video editing platform that allows users to edit videos directly from their web browser. It's a great choice for users who need basic editing like cropping, trimming, resizing, and rotating.
Features:
Basic editing tools
Video compression and resizing
Merging and splitting videos
Adding text and subtitles
Pros:
No software installation required
Easy to use
Free version available
Cons:
Limited functionality compared to dedicated software
Requires an internet connection to use
Pricing: Free, $9/month or $72/year
3. iMovie
Best for: Basic editing
If you don't know how to edit videos on Mac and don't want to purchase any software, here's your solution. iMovie is a free video editor developed by Apple, offering basic editing tools and features for creating and sharing videos. It's easy to use and comes pre-installed on most Mac devices, so it's great for beginners and casual users who need quick results.
Features:
Basic editing tools
Built-in templates and themes
Integration with other Apple applications
Share directly to social media platforms
Pros:
Free to use
Simple and easy to learn
Ideal for beginners
Cons:
Limited advanced features
May not be sufficient for professional users
Pricing: Free
4. Magix Movie Studio 365
Best for: Professional editing
Magix Movie Studio 365 is professional-grade video editing software for Mac that offers a wide range of features and tools for creating high-quality videos, catering to both beginners and advanced users.
Features:
Advanced editing tools
Multicam editing
Color grading
Audio editing and enhancement
Pros:
Smooth video editing
Comprehensive feature set
Numerous effects, transitions, titles, and more
Customizable templates
Provides stock items every month
Cons:
Higher cost compared to some competitors
May have a steeper learning curve for beginners
Pricing: 30-day free trial, paid plans start at $7.99
5. Nova A.I.
Best for: AI-driven editing
Nova A.I. is an AI video editor that automates various editing tasks, allowing users to create professional-quality videos with ease. NOVA A.I. is browser-based and has cloud storage, so you can edit anywhere and anytime without having to think about space, downloads, or regular updates.
Features:
Basic editing tools
Automatic subtitling and translation
Text-to-speech AI voiceover generator
Elements, transitions, and filters.
Integration with popular stock media libraries
Export options for various platforms
Pros:
Streamlines the editing process
Saves time and effort
Free version
Suitable for users of all skill levels
Cons:
May not offer full control over editing decisions
Limited features compared to others
Pricing: Free, paid plans start at $10/mo
---
Conclusion
Overall, Macs are a great choice for video editing. They offer superior performance, durability, and a robust software ecosystem. In this article, we rounded up some of the many video editors available for creatives using Macs — whether you're a beginner or an advanced user, you'll be sure to find one that suits your needs. Try the free trial versions of each program to see which one works best for you, and take your video editing skills to the next level. And if you need any video assets, special effects, or audio clips, check out our free library.
---
Cover image via Freepik.
Looking for filmmaking tips and tricks? Check out our YouTube channel for tutorials like this . . .