Browsing our library, you may see "Editorial Use Only." What does that mean, and when does your project qualify as Editorial?
You may have run into instance when you wanted to use a specific stock clip or image in your project, but you notice that there is some text warning you that the asset you're trying to use is "For Editorial Use Only".
In the pantheon of different stock elements you can access on the internet, things intended for editorial use are meant for specific purposes — and they were captured under specific circumstances. As a result, there are certain limitations on their use from a legal standpoint.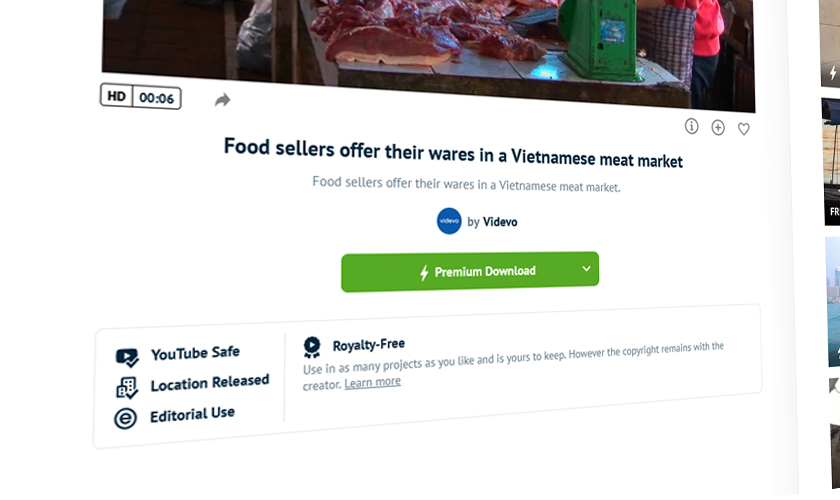 On some sites, it may be difficult to tell whether a clip is Editorial Use or not, but at Videvo, there is a handy little box right below the download button that will let you know (pictured above). You'll be able to tell which parts of the clip are cleared (i.e., the location released designation pictured above) and if you can use it on YouTube or not (also pictured above).
When stock clips or images are captured, there are a number of different rules and legalities applied to them that go beyond your usual local laws governing gathering images of people and places for private use.
So when are you allowed to use which? How can you make sure you won't get in trouble?
Editorial vs. Commercial Use
When stock clips and images are created, they're created under various different legal scenarios as it relates to how the stock elements will be used. This essentially boils down to whether or not the clip was captured with commercial use or editorial use in mind.
Commercial use is rather self-explanatory. Items with this designation mean that they can be included in projects that are meant to sell a product, such as advertising or promotion. Items with the commercial use designation can be included in television advertisements, paid ads, etc.
Editorial use is quite literally the opposite. If your project is meant to tell a story, educate, inform, or just doesn't have any product or monetization purpose tied to it whatsoever, then generally you'll be all right with editorial use clips.
Generally when something is marked as editorial use, there was a factor involved in creating the clip or image that limits it from legally being used in commercials.
Why Editorial Use?
Stock clips and images that are gathered under the right circumstances can be used in commercial applications. There are a number of things that must be done to make this the case. Everyone must have signed the proper release forms, the location will need to be released, and generally the content must have been created in a controlled environment where everyone knows what's going on and what the clips might be used for (i.e., commercial purposes).
Editorial content is generally when these releases and agreements couldn't be made with the subjects and locations involved in the content. Even though you're usually okay to film in public spaces and locations, if you want to use that content for commercial purposes, more legalities come into play.
Which Clips Can You Use for Your Projects?
Even though the whole topic can get a bit confusing, it's really quite simple. If you're planning to monetize your content in any way, it's best not to use editorial use clips — that is, unless they are marked with "YouTube Safe," and that's where you intend to put the content.
If you're planning to use an editorial clip for news, broadcast, or general education or story-telling-oriented content, then you're good to go. You'll often find clips of politicians, celebrities, and athletes labeled with "editorial use." When it comes to locations, you'll find that when a specific location can be identified (i.e., the Eiffel Tower) then it may have the editorial use designation as well, at-least if a location release wasn't secured at the time of capture.
For example, in the above image, you can see that this is a beach, but the way the shot is framed you aren't able to tell exactly which beach it is. In cases like these, it's usually stock friendly for any use.
Don't get too bogged down in the details though because, on our site, each clip and asset is marked with the correct designation so you can quickly and easily tell what you can use it for.
---
Images via Freepik and Videvo.
Looking for some music for your projects? At Videvo, our library has everything from free ambient music to music for streams — perfect for any indie project:
Need a break? Check out our videvoscapes — the ultimate reels for relaxation or concentration. Each videvoscape collects hours of high-definition nature footage and background video with downtempo chill beats for the ultimate escape from the grind.