In this video tutorial, we're going to talk about why YouTube took down your video, what you need to know about copyright, and why you should be using royalty free licenses. Buckle up because we're going to cover a lot of ground in a short amount of time.
Let's get to it!
What Is Copyright?
The most accurate and formal definition of copyright comes directly from the U.S. Copyright Office:
"Copyright is a type of intellectual property that protects original works of authorship as soon as an author fixes the work in a tangible form of expression."
This can include artwork, photography, music and sound recordings, software, literature, content published on the internet, films, architecture, theatrical productions, and many other types of media.
In the U.S., since Congress passed the Digital Millennium Copyright Act (DMCA) of 1998, copyrighted material has been protected, preventing illegal distribution. This is why YouTube removes creators' videos. It gives copyright owners the power to ask YouTube to remove videos that violate the established rules. Veteran creators on the platform know this process as a DMCA takedown.
No one can fully or partially copy, reproduce, distribute, or monetize this content without the copyright holder's permission. If you're currently making a movie, you can't use your favorite song from a famous artist without paying for the rights to use that specific song, which can honestly go for tens of thousands of dollars.
Now, you can buy the rights to these songs, but it will cost you. For example, a few years ago I was working on a little video for my own YouTube channel, and really wanted to use this very specific, very obscure song from an artist I found on Spotify. So I did a little research and found the artist's label, reached out via email, asking "Could I purchase a license to use the song in a YouTube video," they agreed to a fee, and I paid it. Then they sent the contract, and I signed it. Then they sent it back to me via email so I had a digital copy of that license. This will come in handy later when we talk about getting a copyright claim on YouTube. But for now let's talk about royalty free licenses.
So, the moment you create something, it belongs to you, and it's yours to do with as you wish. Your copyrighted works are protected for the entirety of the your life, plus 70 years.
What Does Royalty-Free Mean?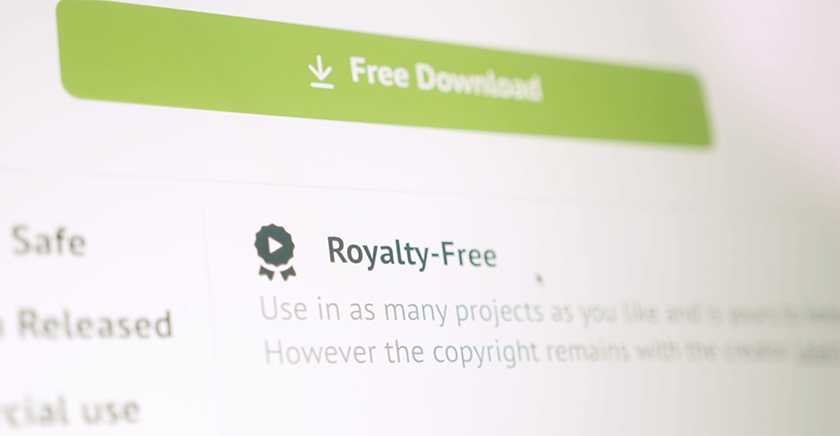 Simply put, royalty-free content is a class of creative assets that other creators can use in their projects for an agreed-upon fee. This doesn't give you the right to claim the work as your own, and the owner isn't giving you permission to resell or redistribute the work in its original form on another platform — for free or otherwise.
So, say you're going to download one of our clips at Videvo. The royalty-free license is our most common license, and it applies to both free and premium clips. It means that once you download the clip, you may use it in as many projects as you like, forever. It's yours to keep, but this doesn't mean you "own" the clip; the copyright remains with the creator.
So really quickly, let's go over some important bullet points for royalty free licenses:
Download once, and use forever.
You can edit and customize the clip however you'd like.
You are not required to credit the owner of the clip.
You may use and publish the clip anywhere.
You can't redistribute the clip in its original form, like selling it on another stock site.
Where to Find Assets?
Look no further than our own library! We offer clips, songs, sound effects, and even motion graphic assets like titles, lower-thirds, transitions, and other video effects. No matter which platform you use, we've got templates for you. So, Premiere, After Effects, Resolve, or FCPX — you'll find something perfect for your next video.
The best part about using stock assets is the freedom you have to customize them for whatever color scheme, aesthetic, or theme you're using — it doesn't matter if you're working on personal projects or something for a client.
What to Do if You Get a Copyright Claim on YouTube
So let's say you download one of our clips and use it in your next video. Then when you go to upload the video on YouTube, you get hit with a copyright claim! This can happen for a variety of reasons, one of them being other creators using the same clips in their own YouTube video. YouTube sees that and thinks, "Oh, that belongs to that other creator." So they won't necessarily "take down" your video, but you won't be able to monetize it.
You can dispute the claim in your YouTube dashboard by going into YouTube Studio, where you'll find the option to dispute the claim. You'll see a prompt that reads "I have a license or permission from the proper rights holder to use this material" or something similar (YouTube updates the overall system for how these things work).
You will then go through more steps to confirm your claim — at a certain point, you'll see a prompt to submit a written claim. All you need to do is explain that the video clip comes from Videvo.net, with a link to the original video and a note that you have a license for the clip in question. You can then review and submit your claim.
And that's it — you've now submitted your dispute. Next, the claimant has 30 days to either accept your dispute or reject it. In most cases, they either won't respond, or they'll accept your dispute — after all, the claim came from YouTube's Content ID system. If they don't respond within 30 days, your dispute is automatically approved. I've found that it never takes the full 30 days, so expect this whole process to go pretty quickly.
What Is The Difference Between a Content Claim and a Strike?
The difference between a content claim and a copyright strike is that YouTube's algorithm automatically generates claims, whereas a copyright strike comes directly from another creator, saying "You stole this." If you get a copyright strike, you have to go to what YouTube calls "copyright school" — if you get three strikes, YouTube will delete your channel and all its existing videos, so it's important to get the necessary licenses and rights to prevent this from happening!
It's also important to note that a video can only get one strike. So you'll need to get three separate strikes on three separate videos for YouTube to take such drastic measures. Do your best to stay out of trouble!
---
Cover image via Freepik.
Looking for creative assets you can use in your projects? Check these out.
Need a break? Check out our videvoscapes — the ultimate reels for relaxation or concentration. Each videvoscape collects hours of high-definition nature footage and background video with downtempo chill beats for the ultimate escape from the grind.